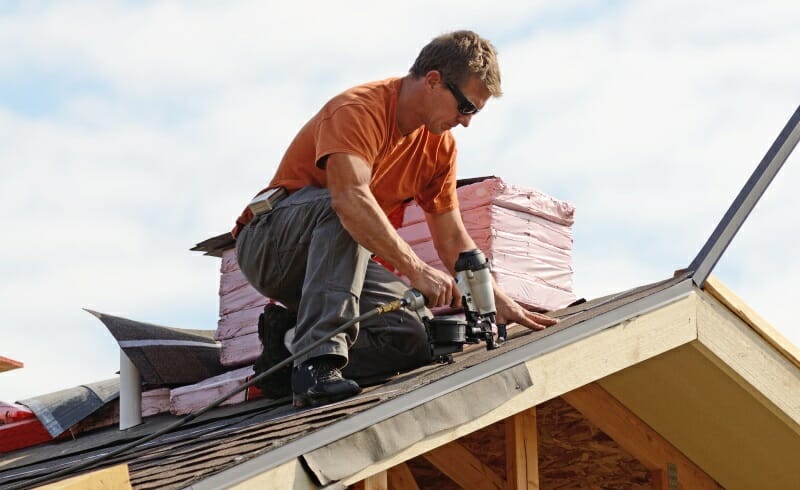 04 Apr

ESTIMATING THE COST OF A NEW ROOF FOR YOUR HOME

A new roof for your home can at times be an expensive project with costs that can vary depending upon where you live, the slope of your roof, the number of stories and the complexity of your roof's overall design architecture.

The average home size in the U.S. is approximately 2000 square feet. Based on that average, for a single-story ranch house, a full roof replacement cost can range between $5500 to $12,000 or more.

Such a price tag is a considerable budgetary burden. A better understanding of where all the money is going and what makes up your roof can be helpful.

A few minutes of knowledge will help you better analyze your situation and determine how much you should invest in your roof installation and the consequences of your decision.
Why the Quality of Your Roof Matters
A quality roof system is not only important to the overall health of your entire home but also everything inside it. Family members, expensive art, ceilings, walls, custom interior work, all at risk of damage if the roof is not secure. No place is this more relevant than the DFW area. Here it's important to understand that your home needs a durable high quality roof to survive the hail and wind storms that frequent our area.
A high quality roof system is not just defined by the shingles or other materials. It is ultimately measured by installation quality, correct ventilation and a true piece of mind warranty.
A quality roof system should be able to stand up to the many hail and wind storms that frequent the DFW area so often, with a minimum wind rating of 130MPH or better.
A quality roof installation should always come with a good ventilation plan that will cut energy costs for your home while increasing the lifespan of your roof shingles.
A quality roof system, that has been installed correctly, should come with a true piece of mind leak warranty protecting you if the roof ever leaks. Any labor warranty under 20 years should be considered risky and not enough time to test the work.
If your roof replacement project is executed with low quality roofing materials followed by a low quality roof installation, performed by a subcontractor, middleman or jack of all trades company, then here are the disadvantages you can expect:
Poorly installed roof systems can begin leaking at any minute and can be immediately vulnerable to high winds, heavy rain and hail damages.
Low quality roof shingles will deteriorate faster requiring frequent maintenance or another full roof replacement in the near future.
Improper ventilation will cause higher energy costs for your home and puts more stress on your heating and cooling equipment.
Bottom line, a low quality roof may appear cheaper in the beginning. However, when you consider the additional maintenance cost and more frequent replacements, it just makes since to go with the higher quality roof system.
Your roof is a long-term investment. It should be looked at from a long-term perspective, not just the upfront cost of the installation.
A high quality roof system comprises of two things:
Superior quality roofing materials (synthetic felts, storm guard leak barriers, metal flashings, lifetime owens corning oakridge laminated shingles, ridge vents, wind turbines, etc)
High quality roofing installation work. (This can only be accomplished by hiring an actual shingle roof specialist with a minimum of 20 years of experience.)
Let's cover some basics and briefly discuss each of these aspects.
Choosing a Superior Quality Roofing Shingle Product
We recently published about selecting the best quality roofing shingle for your roof replacement. Here is the link to that post:
SELECTING THE BEST ROOFING SHINGLE FOR YOUR ROOF REPLACEMENT
We encourage you to read that post because it clarifies a lot of the basics for you to understand the types of shingles and positives and negatives of each.
When it comes to selecting a roofing shingle, we highly recommend that you stick to the proven brand names in the roofing industry rather than trying your luck with a new brand simply because of front end cost. It's too risky to gamble with your roof and your home.
Based on our experience, we recommend that you choose your roofing shingles from one of the two brand names that we trust:
Owens Corning (Our first choice)
GAF (Our second choice)
Both companies have been around since the 1800s, have great warranties on their shingles and have both proven themselves over a period of time to be the leading shingle manufacturers in America.
Both offer 3-tab shingles, architectural shingles and luxury shingles. Which is right for you will depend on the age and design of your home and the style you're into. The higher the quality in this case does not always mean better.
Choosing an Experienced and Trustworthy Roofer
We have written multiple posts in the past about how roof scammers are ripping off homeowners in record numbers. Finding a trustworthy roofer can be an overwhelming task.
If you need your roof repaired or replaced, you need to find a good, experienced and trustworthy roofer. You can read these posts below to help you understand how to spot a scammer and filter them out when you are looking to hire a roofer for your roof installation:
Just to recap, a few things you could do to find a trustworthy roofer just follow these steps:
Check with friends and family to see if they can recommend a roofer they trust.
Ask the 10 questions we suggested in the post above to identify and eliminate bad roofers.
Request an estimate from 2-3 of your top choices.
Ask the roofers to provide you with the warranty information for the roofing materials they recommend.
Ask the roofers this questions specifically: Mr. Roofer, exactly how long is your labor warranty against roof leaks? Then ask to see it in writing.
What Determines Your Roof Installation Pricing
When a roofer estimates the cost of your roof installation/replacement project, there are several factors are taken into consideration. Some the most important factors that play a role in the cost estimation are: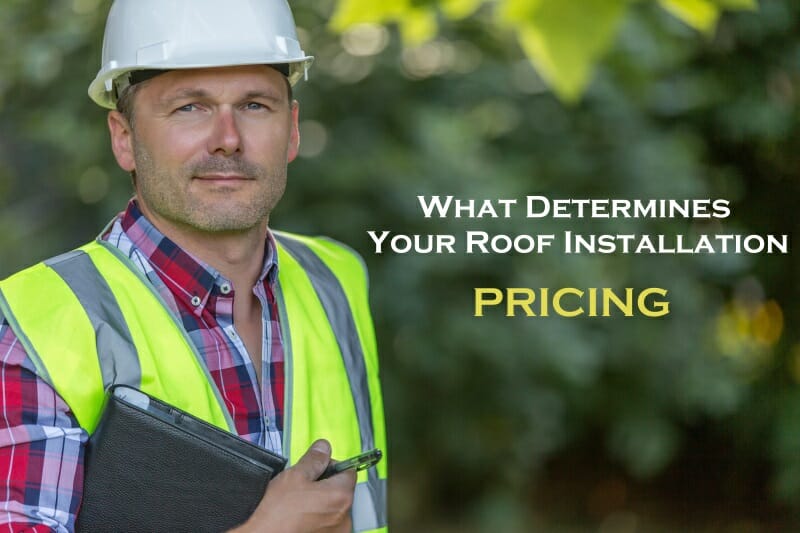 The size of your roof. The bigger the roof square footage the larger the cost.
The slope of the roof also plays a role. Steeper slopes are more difficult to work with as compared to the roof that has less slope.
The more complex the design of the roof, the higher the costs can become. Roofers must account for difficult areas of concern, such as; dormers, hips, valleys, etc.
Removal cost of the existing roof and then the waste/haul off after the installation must also be considered.
The cost of the roofing materials such as the type of shingles you want installed on your roof. The cost will vary depending on the quality of the material.
Your roofer also needs to factor in the labor costs for the installation of your new roof. This cost will also depend on the size of your roof and complexity involved in finishing the work.
The ventilation work also affects the roofing estimates. The cost will vary depending on how much ventilation work the roofer needs to do on your roof.
Honest Roof Advantage!
At Honest Roof, we offer all our clients a complimentary full ventilation evaluation and upgrade on every shingle roof system we install. Our clients do not have to worry about ventilation upgrade costs when they hire us!
These are some of the main factors that a roofer will consider while estimating the work. However, there could be additional factors as well such as equipment, trucks, taxes etc. that may add to the overall cost of a complete roof installation.
Not sure what to do next? From a roof inspection, to roof repairs, to a full roof replacement, trust HonestRoof.com for all your shingle roofing needs.
If you live in the DFW Area, send us your property address and we will send you a FREE estimate for your roof replacement on the same day