ATTENTION HOMEOWNERS!!
THE DFW ROOFING BUSINESS IS NOT ABOUT REPLACING OR FIXING YOUR ROOF
IT'S ABOUT KEEPING ALL YOUR INSURANCE MONEY!!
High winds and hail storms frequent the DFW area quite often. On occasion, some of these storms can damage thousands of homes in their path. However, local municipalities are warning DFW residents to avoid doing business with contractors looking to handle your insurance claims and walk away with all of your insurance money.
MODERN DAY GOLD RUSH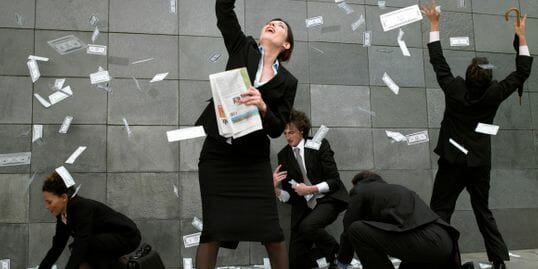 Chasing hail storms in pursuit of insurance claims is a 100 Billion dollar a year industry and proving to be an overwhelming concern for most Texas residents and their insurance companies.
Because of the huge profits in insurance claims, DFW contractors employ train and pay aggressive salespeople huge commissions to chase after hail and wind storms, make telemarketing calls, pass out flyers and knock on as many doors as they can offering "free roof inspections".
With each hail storm, there is an all-out gold rush to convince as many homeowners as possible to hand over their insurance claims.
DON'T BE FOOLED! THESE ARE NOT TRUE ROOF INSTALLERS. THIS IS ALL AN EFFORT TO WALK AWAY WITH YOUR INSURANCE MONEY!
RIP OFF REPORT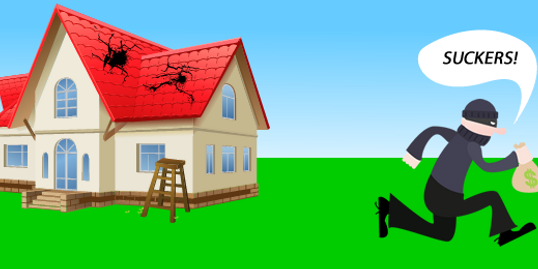 Contractors know, if homeowners allow them to meet with their insurance companies at their homes on their behalf, most homeowners are going to naturally feel obligated to then hire that contractor for the work if the claim is approved. (The scam is convincing you that they need to meet with your insurance Adjuster to make sure everything is approved and paid properly).
However, several studies aired by local DFW news stations revealed that contractors have "absolutely no say" over whether or not insurance adjusters approve or deny your hail claims. "They are simply rolling the dice with the homeowners claim and are hoping to be present when the roof is approved." In an effort to prevent this scam the State of Texas even passed a law attempting to restrict contractors from representing homeowners during the claims process.
The study ultimately reveals that out of the thousands of contractors in our area, less than 10% were found to be actual "hands-on" skilled roofing specialists with the homeowners best interest in mind. This means that more than 90% of the contractors working in the DFW area today are simply middleman companies (General contractors, construction companies, commission salespeople, etc.) all hoping to handle your insurance claim, sub the work out to a crew and keep the leftover claims money for themselves.
---
SAVE YOUR MONEY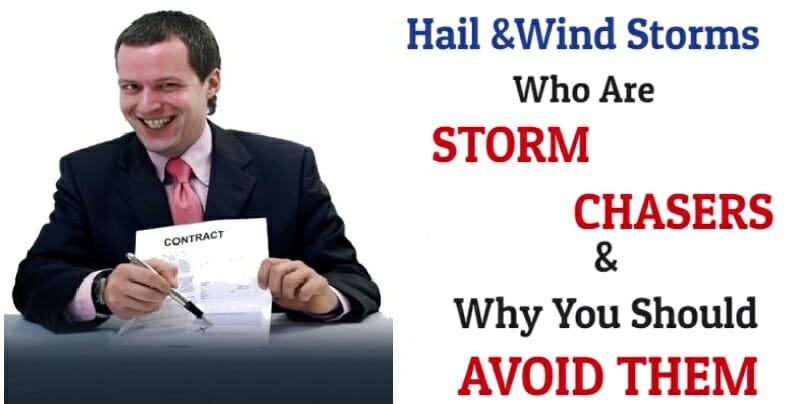 HOW TO AVOID THE STORM CHASERS AND INSURANCE SCAMS
It's important that you are able to immediately identify and avoid contractors looking to handle your claim. It is very easy to be fooled and most people fall for their tricks and never even see it coming. So, how do you avoid them?
Here are a few signs you are about to be scammed:
(1) THEY WON'T GIVE YOU A WRITTEN ESTIMATE. This is an immediate indication that you are dealing with a salesperson or a middleman. Remember, if they ask to see your insurance papers, it is a scam. A true roofing professional should be able to produce their own diagram, measurements and detailed written estimate.
(2) THEY WILL CLAIM TO BE A FULL SERVICE COMPANY. They will typically have a name indicating that they provide a multitude of services. For example XYZ Roofing "& General Contracting" or XYZ "Construction". Avoid middleman companies. Always buy directly from the person that will be doing the work. If you need a roofer, hire a roofer. Not a general contractor.
(3) VAGUE OR COOKIE CUTTER ESTIMATES: Avoid estimates that appear vague or claim to charge everything to your insurance company. Homeowners should demand detailed written estimates with a firm price that you will be charged upon completion of the work.
(4) CONTRACTORS REQUESTING DEPOSITS OR MONEY DOWN This is the worst of all. Only a scammer or a commission sales person will require a deposit or money down before all of the work is completed. (Never, for any reason, pay a contractor a deposit or any money down until ALL of the work has been 100% completed.)
It's highly recommended that homeowners handle their own insurance claims, always get a written estimate and keep their personal information private. Never trust roofing contractors with your insurance claim!