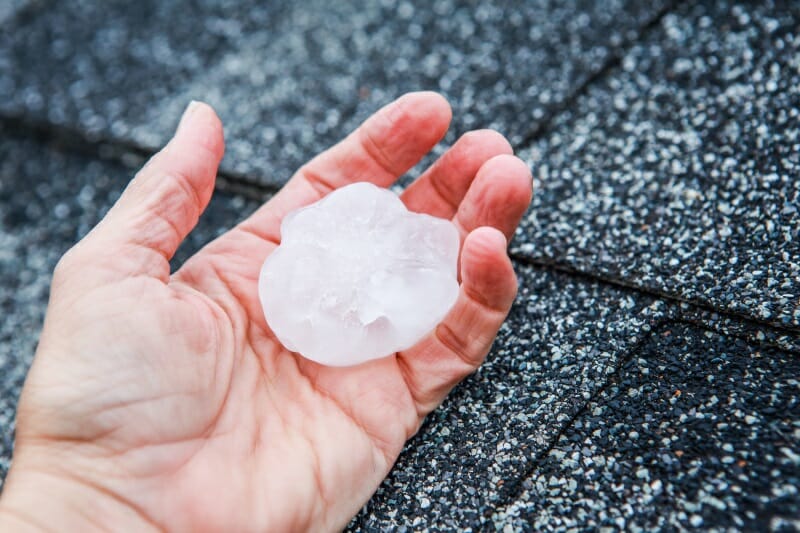 13 Apr

HOW TO DEAL WITH HAIL DAMAGE ON YOUR ROOF

If you live in Texas, hail storms and hail damages are a constant stress factor, year after year. Hail storms are considered an act of god, therefore, roof damages to your home are typically covered by your homeowners insurance policy.

However, hail damages are not always visible from the ground. Because of this, many homeowners are not usually aware of hail damages to their roofs. This is in large part why hail damage hardly ever crosses a homeowner's mind, unless the vehicles are damaged.

Not to worry, since you are here, we are going to provide you a guide so you know exactly what to look for when inspecting your roof for hail damage.
ROOF INSPECTION – CAUTION FOR HOMEOWNERS
As a homeowner, you should do what you can to learn as much as you can about hail damages to your roof and how to handle it.
Inspecting a roof can be dangerous and difficult to identify, unless you are professionally trained and equipped with the necessary tools and gear. Jumping up on your own roof to self-inspect is NOT recommended.
Many roofing contractors offer a free roof inspection. However, most are really nothing more than trained commission sales people looking to keep all your insurance money.
They are hoping you will file a claim if even the slightest hail damages are found. At HonestRoof, we provide an honest roof inspection and same day estimates based on what you actually need. Please don't hesitate to contact us if you live around the DFW area and need help with a roof inspection.
SIGNS FROM THE GROUND THAT YOUR ROOF COULD BE DAMAGED
Although it's hard to measure the extent of hail damage on a roof from the ground, there are a few signs to help you determine if there may be more damages.
Here are a list indicators you should look for to determine full roof replacement or simple roof repair:
1.     Dented Gutters, Gutter Screens and/or Downspouts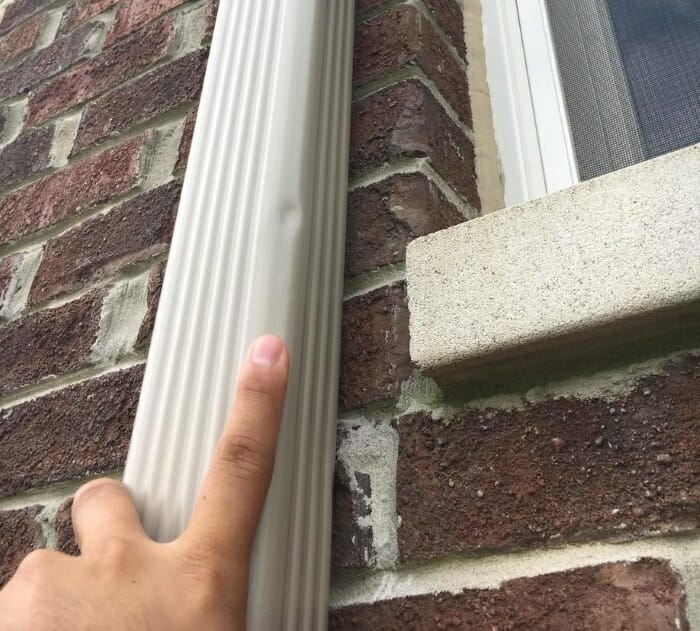 This is not the magic bullet to determine the exact degree of damage. However, it is a very good indicator that you most likely have issues on the roof as well.
Insurance adjusters are also trained to look for these damages before ever looking at the roof.
2.     Siding and Window Screen Damages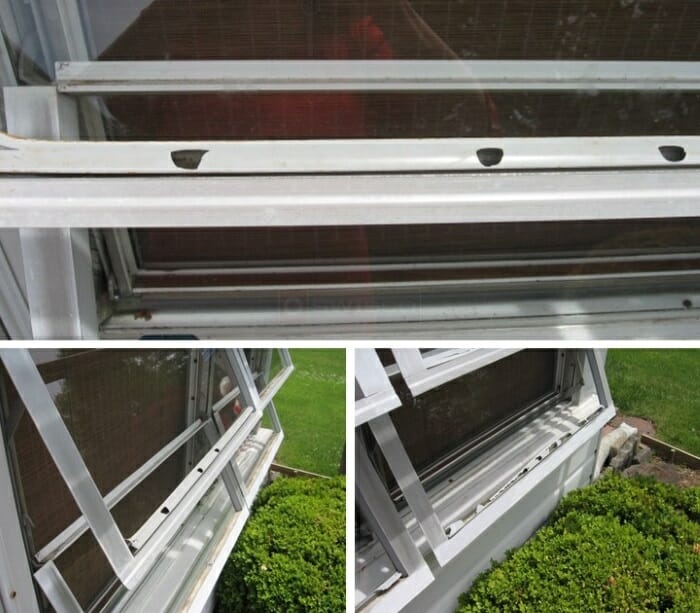 Check your home's siding and windowsills/casings for dents, dings or other signs of hail impact. These are areas that will most likely show some type of impact marks or visible damages if there has been a hail storm of significant size or concern.
Also, be sure look closely at any other exposed metal surfaces around your home. Mail boxes, lights next to the door, garage doors, are all great areas to check for hail damages.
3.     Damage to Air Conditioners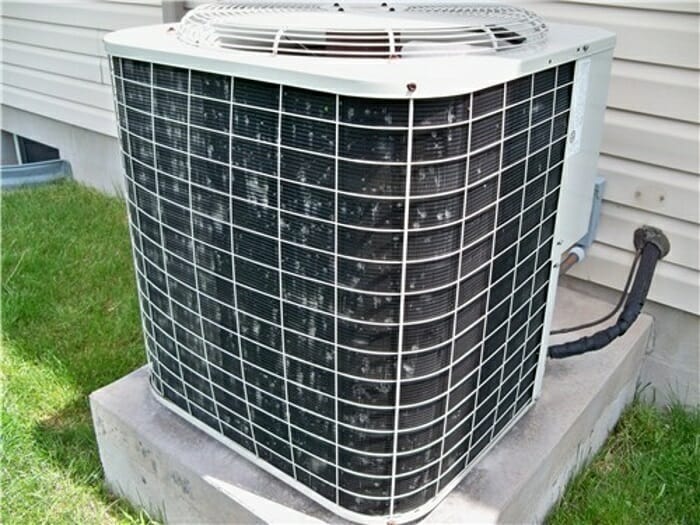 Air conditioning units are usually located outside the home. If there are hail damages, the impact marks will be clearly visible on the unit fins. When there are dents, dings or other signs of hail impacts on the air conditioner, there is a good chance there is damage on your roof as well.
HAIL DAMAGE TO ROOF VENTS AND SHINGLES
A true roofing inspector is trained to look at the vents, chimneys, skylights, and other soft metals on your roof before ever looking at the shingles. These areas should show signs of hail damage similar to the damages that you found at all the ground areas you checked yourself.
The last step is to check the shingles. Roofing shingles bear the brunt of hail damage and is the most costly of all damage. When there is significant hail damage to the roof shingles, the only option is replacement.
Without significant damage to the actual roofing shingles, your insurance claim will most likely be denied.
SPOTTING HAIL DAMAGE ON ROOF SHINGLES
Roofing inspections should really only be conducted by actual roof installers. Not commission sales people. This keeps everyone honest and avoids rolling the dice on unnecessary claims.
A true hands on roof installer can spot hail damages to roof shingles, even though it may not be easily seen by the untrained eye. On the other hand, a true hands on roof installer can also eliminate suspect areas that may appear to be hail damages when it really only normal ware and tear.
Claiming hail damages, that are not actual hail damages, is a good way to put your insurance company on the defensive, possibly hurting your chances of getting the approvals you need to replace the roof.
Here is a picture showing real hail damage to a roof shingle: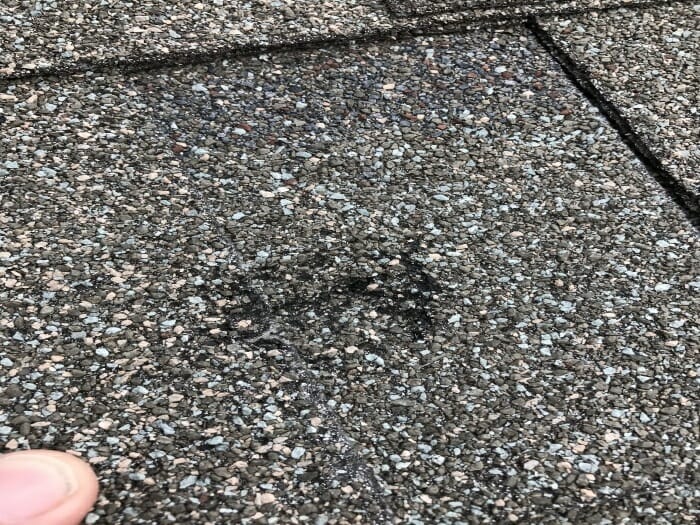 Here is another one from roofing shingle damage due to hail from another angle:

When the surface material is knocked off of a shingle, even though it may not look like a huge deal, the integrity of the shingle has been compromised, and a water leak can develop over time.
Please note that even the smallest hail impact on a shingle can lead to a roof leak. It is a big deal, which is the very reason your insurance immediately jumps on your claim.
NOW WHAT?
As a homeowner, once you have a professional roof inspection performed and damages have been confirmed, the next step is to file the insurance clam with your insurance company. However, before you do anything, you must read our previous blogs. They will save you a lot of time and aggravation and will prepare you for how to handle your claim:
TRICKS TO FILING A ROOFING INSURANCE CLAIM.
HOW TO FILE YOUR OWN INSURANCE CLAIM/
LIVE IN THE DFW AREA? WE CAN HELP!
HonestRoof.com is a family run business that has served the entire DFW area honorably since 1954.
With almost 70 years of hands on roofing experience, we have thousands of satisfied customers and no complaints or negative reviews ever filed against us.
All roofing projects we undertake, are backed by an un-matched 20 Year Leak Free Labor Warranty Guarantee.
We are very proud to be an A+ accredited member of the Fort Worth Better Business Bureau and boast the highest customer ratings you'll find anywhere.
If you have any questions about your roof or if you are not sure how to go about getting roofing work done, give us a call at (817)-966-2863 or email us at [email protected]