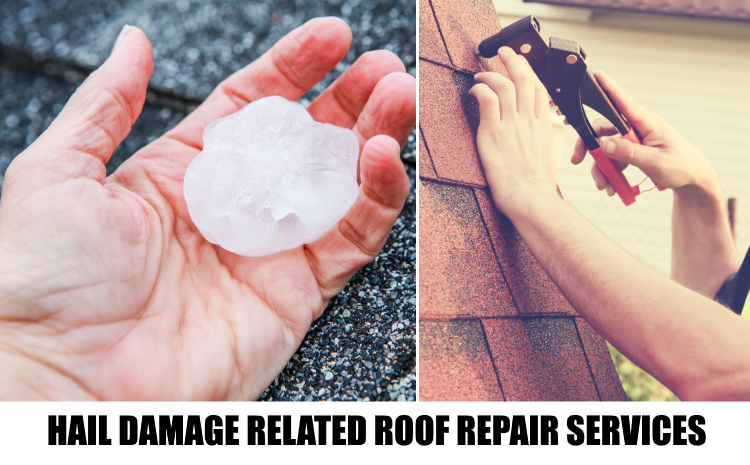 21 Aug

MOST COMMON QUESTIONS – HAIL DAMAGE RELATED ROOF REPAIR SERVICES

The DFW area is known for hail damage related roofing stress homeowners have to go through especially during the first half of the year. Hailstorms can cause significant damage to your roof. In fact in the DFW area hailstorms are the primary reason of worry for homeowners.

Most people only think about their cars when there is news about a hailstorm. Homeowners should know the damage hail can cause to their roof.

Today in this post we are going to answer some common questions about hail damage and what homeowners should do to inspect their roof. Learn how to get the damages repaired after a hailstorm has passed.

Here are some basic questions on this subject and some information for you:
We Just Got Hit by a Hailstorm. What should I do?
If the hailstorm wasn't bad and a lot of damage is not visible in your neighborhood, it's possible that your home is fine provided your roof is not very old. Just to be sure, you should get your roof inspected by a professional.
At HonestRoof.com, we offer a FREE Roof Inspection service with no strings attached. If your roof has little to no damages, we are honest about our findings and prove all inspections with pictures. If your roof does have significant damage, we will email you a written report showing you the damage up close. If you want to work with us to get your roof repaired, we would be glad to assist you with your permission.
I Visually Inspected My Roof. It Looks Fine. Why do I Need a Roof Inspection?
Hail damages are not always obvious especially if you have textured roofing material such as dimensional or architectural shingles on your roof. It requires trained eyes to look for that damage and to assess the extent to which the damage was caused by the hailstorm.
The outer roofing material may have shallow dents that aren't readily visible. If these dents are deep enough to "bruise" the waterproofing layer and cause small punctures. This could allow rainwater to seep through the roof deck into the attic causing significant water damage.
It's a good idea to get your roof inspected and save a report even if it looks OK after a hail incident. This shows the insurance company that you exercised due diligence in maintaining your property. Since the roof inspection service is FREE to you, isn't it's better to be safe than sorry?
Can't I Just Inspect My Own Roof?
As we discussed above, while you may think you can save some money by going the DIY route with your roof inspection and repairs, doing so is ill-advised. Professional roof inspection services are available to you for FREE. Why would you want to do it yourself if you could get a professional inspection at no charge to you?
Most homeowners lack the safety knowledge and in-depth roofing expertise to do the job properly and might even make the conditions worse. Experienced professionals have the training, skills and experience needed to know how to conduct a roof inspection safely and thoroughly.
What Happens After You Inspect My Roof?
HonestRoof.com will conduct a comprehensive roof inspection from the outside as well as inside your attic. We will then discuss our findings with you. We show you the visuals of the damages (if any) caused by the hailstorm.
If damage is significant and if it is repairable, we will work with you to get the repair estimate. If damage is so severe it warrants a complete roof replacement we will come up with an estimate to replace your roof with your choice of shingle. A decision to replace a roof is dependent on the extent of damage and the age of your roof. Based on the estimate and subject to your insurance approval (if you have insurance) and your approval we will replace your roof according to the estimate provided.
How Does my House Insurance Cover Roof Repair Caused by Hail Damage?
Once we provide you an estimate of work, you can just call your insurance company, file your roof-damage repair claim and send them our written estimate.
If your insurance plan covers hail damage repair costs, your insurance company will do their own inspection. If they approve they will provide you the money needed to get your roof repaired/replaced. Once you get their approval, call HonestRoof.com to perform the service. We will schedule the roof replacement/repair service for you and get your roof fixed.
Have More Questions? Call us, Email us!
If you have additional questions, please call us at 817-HONEST-1. You can also email us at [email protected] or simply use our Contact Us page and send us your information.